Nakoula Basseley Nakoula behind bars, but not for anti-Islam YouTube video
Nakoula Basseley Nakoula, the man allegedly behind the anti-Islam YouTube video that sparked violent protests across North Africa and the Middle East, is being held while authorities determine whether he violated probation restrictions for an earlier conviction.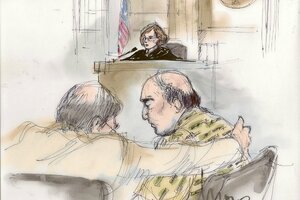 Mona Shafer Edwards/AP
The man allegedly behind the anti-Islam YouTube video that sparked deadly riots in North Africa, the Middle East, and other parts of the world now sits in a Los Angeles jail on charges that have little to do with the crude, 14-minute trailer titled "Innocence of Muslims."
Instead, Nakoula Basseley Nakoula – the name authorities have settled on for a man known variously as "Sam Bacile," "Mark Basseley," and "Mark Basseley Youseff" (which is what he now calls himself), plus a dozen other names – is being held for violating the terms of probation related to a 2010 bank fraud conviction.
Following his conviction, for which he served one year in federal prison, Mr. Nakoula had been ordered not to use an alias or access the Internet without the permission of his probation officer.
At a preliminary bail hearing late Thursday, his attorney argued that Nakoula is not a flight risk and that if jailed he likely would be subject to physical attack because of the inflammatory nature of the video, which portrays the Prophet Muhammad as a fraud and a madman.
"It is a danger for him to remain in custody at the Metropolitan Detention Center in Los Angeles because there are a large number of Muslims in there," Steven Seiden said. "We are extremely concerned about his safety."
But Assistant US Attorney Robert Dugdale argued that Nakoula had engaged in a "pattern of deception" and is "a person who cannot be trusted."
"He poses a flight risk and poses a danger to others," Mr. Dugdale said. "He has every incentive to disappear."
---