At Supreme Court: Can US courts be venue for human rights cases from abroad?
On Day 1 of its term, the US Supreme Court heard a case involving allegations by 12 Nigerians that a foreign oil firm abetted human rights abuses in Nigeria 20 years ago. Alien Tort Statute, originally aimed at allowing legal action against pirates, lies at heart of the case.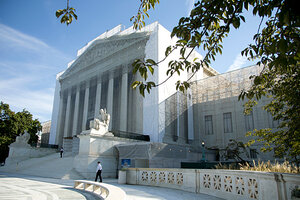 Carolyn Kaster/AP
The US Supreme Court opened its 2012-13 term on Monday with oral argument in a case examining whether a foreign corporation can be sued in a US court for allegedly aiding and abetting human rights abuses in a foreign country.
The case marks the second time in eight years the high court has taken up an appeal involving the Alien Tort Statute (ATS), a law dating from the first Congress in 1789.
The statute allows noncitizens to sue in US courts for human rights violations and other breaches of international law. What the law doesn't state explicitly is whether the ATS applies everywhere – or merely to wrongful conduct within the US or that is otherwise linked to the US.
The question before the court is whether to uphold a lawsuit filed by 12 Nigerian citizens against Royal Dutch Petroleum for allegedly aiding and abetting in human rights abuses by the Nigerian government and its armed forces 20 years ago.
Lawyers for the oil company argue that corporations cannot be held liable under the ATS. They are also urging the high court to declare that the ATS does not extend to conduct by foreign corporations in a foreign country.
Human rights lawyers counter that there is nothing in the text of the ATS limiting its reach.
Several justices seemed reluctant to embrace a broad reading of the statute to allow foreign corporations to be sued for alleged actions in a foreign country harming foreign citizens.
---