Fight ends over early voting in Ohio as US Supreme Court refuses to step in
Ohio had sought to cut short in-person early voting this year, but federal courts ruled it could not, citing potential disenfranchisement of older and low-income voters. On Tuesday, the US Supreme Court declined to enter fray in this key electoral state.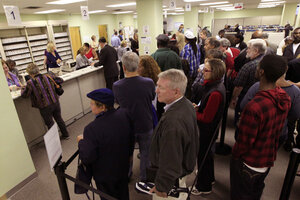 Al Behrman/AP
The US Supreme Court on Tuesday declined an invitation to enter a raging election-year legal dispute in Ohio over the state legislature's decision to eliminate one form of early voting for most voters in the three days prior to the Nov. 6 election.
The action lets stand earlier decisions clearing the way for all Ohio voters to engage in early voting on the Saturday, Sunday, and Monday before Election Day.
The high court action comes less than three weeks before Election Day and more than two weeks after voters in Ohio began casting early ballots on Oct 2.
Ohio is considered a crucial swing state in the coming presidential election. President Obama maintains a razor-thin lead over his Republican challenger Mitt Romney in the Buckeye State.
At issue in the case was a law that closed one form of early voting in Ohio on the three days before Election Day, for all voters except military personnel and overseas residents.
Critics saw the move as an attempt by the Republican-controlled legislature to undercut the ability of minority voters to cast ballots by restricting early voting on the weekend before the election.
The Obama campaign and the Democratic Party sued, claiming the state law granted an unfair advantage to certain voters but not others in violation of the Constitution's equal protection clause.
---