9/11 cases: Do broad constitutional rights apply to Guantánamo detainees?
US Supreme Court has identified some rights that apply to terrorism suspects at the US detention camp. At a pretrial hearing at Guantánamo, detainees' lawyers argue that the Constitution should be presumed to be in effect during war-crimes trials.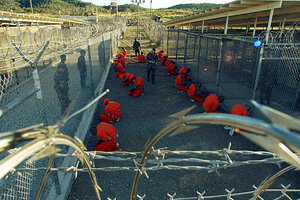 Courtesy of Shane T. McCoy/DoD/Reuters
US constitutional rights should be presumed to apply at the historic war crimes tribunal of alleged 9/11 mastermind Khalid Sheikh Mohammed, defense lawyers argued on Thursday in a pretrial hearing at Guantánamo.
Lawyers for Mr. Mohammed and his four alleged co-conspirators urged the judge presiding over the military commission to issue a pretrial order proclaiming that the five alleged terrorism suspects on trial are presumed to enjoy the same level of constitutional protection they would receive in a US federal courtroom.
The lawyers told the judge, US Army Col. James Pohl, that if a dispute arose over whether to afford a constitutional protection to the defendants, it should be up to government lawyers to prove that the right doesn't apply at the US Naval Base at Guantánamo Bay, Cuba.
Under the current situation, it will up to defense lawyers to prove that the specific constitutional right at issue does apply at Guantánamo.
"We are not asking for a blanket declaration that every constitutional provision imaginable applies at Guantánamo Bay," said James Connell, a lawyer for Ali Abdul Aziz Ali. Instead, he said, defense lawyers are asking the judge to adopt a presumption that the Constitution applies to the proceedings.
"Aren't you asking me for an advisory opinion?" Judge Pohl asked, referring to the practice that judges avoid issuing broad legal pronouncements about hypothetical issues.
---