Gay marriage to Supreme Court? More likely after latest rejection of DOMA.
A federal appeals court panel in New York voted 2 to 1 to declare part of DOMA unconstitutional. The opinion, just three weeks after argument, suggests the judges may have been keeping an eye on the Supreme Court.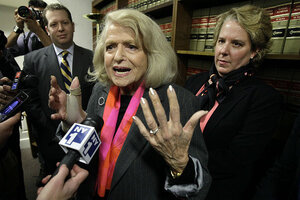 AP Photo/Richard Drew
The decision by a federal appeals court in New York to invalidate the Defense of Marriage Act improves the already strong prospect that the US Supreme Court will take up the issue of gay marriage this term.
On Thursday, a panel of the Second US Circuit Court of Appeals voted 2 to 1 to declare a portion of the Defense of Marriage Act (DOMA) unconstitutional because the majority judges said it violates the right of same-sex married spouses in New York to equal protection.
The decision marks the second time in five months that a federal appeals court has struck down DOMA on constitutional grounds.
On May 31, the First Circuit in Boston ruled in favor of same-sex couples in Massachusetts, challenging what they argued was the discriminatory nature of DOMA in allowing heterosexual couples to enjoy full federal benefits while denying those same benefits to married couples who are gay and lesbian.
The Supreme Court is poised to soon consider whether to take up as many as six different appeals raising various challenges to DOMA. Adding another appeals court decision to that mix increases the prospect the justices will agree to decide the question.
In addition, the Supreme Court is also poised to consider whether to examine a Ninth Circuit decision striking down California's Proposition-8 ban on same-sex marriages in that state.
---