Supreme Court rejects Idaho case on prohibiting the insanity defense
Idaho is one of four states that do not permit criminal defendants to claim they are innocent by reason of insanity. On Monday, the US Supreme Court declined to take a case testing whether an insanity defense is a constitutional right.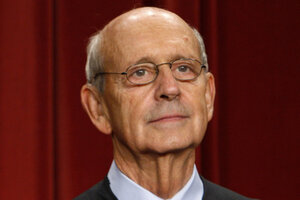 Charles Dharapak/AP
The US Supreme Court on Monday declined to take up a case from Idaho testing whether the federal Constitution requires states to provide criminal defendants with a right to claim they are innocent by reason of insanity.
All but four states – Idaho, Montana, Utah, and Kansas – permit criminal defendants to assert the insanity defense. The four states dropped the provision in the early 1980s after John Hinckley was found not guilty by reason of insanity in his attempted assassination of President Ronald Reagan.
The high court has never ruled on whether the 14th Amendment's due process clause and/or the Eighth Amendment's ban on cruel and unusual punishment require those four states to provide an insanity defense.
The court did not comment on its refusal to take up the case. However, three justices dissented from the action.
---