Why more people didn't die in Clackamas mall shooting
Improved police practices and greater public awareness about what to do in an 'active shooter scenario' may have limited casualties during the Clackamas mall shooting Tuesday in Portland, Ore.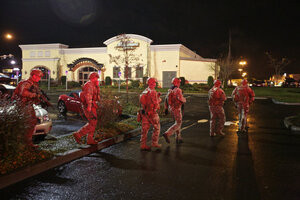 Thomas Boyd/The Oregonian/AP
Citizens' coolheadedness and individual preparation for coping with gunfire in public settings may have curtailed the casualty count from Tuesday's shooting at a Portland, Ore., shopping mall, law officers suggested on the day after the tragedy.
Two people died and one was critically wounded before the shooter, 22-year-old Jacob Tyler Roberts of Portland, killed himself a few minutes after running into the food court at the Clackamas Town Center mall. Officials say Mr. Roberts, wearing camouflage and a white hockey mask, had methodically fired "multiple" rounds from an assault-style rifle at random shoppers.
Most of the 10,000 Christmas shoppers at the mall appeared nearly as ready and able as police to deal with a gunman appearing suddenly in their midst, Clackamas County Sheriff Craig Roberts said on Wednesday.
"Many people have asked me why there were so few victims during this incident," said Sheriff Roberts. He listed the fact that Mr. Roberts's AR-15 semiautomatic rifle intermittently jammed and noted a well-practiced mall lockdown procedure. But he also credited "10,000 people in the mall who at one time kept a level head, got themselves out of the mall, helped others get out, secured themselves in stores.… It was really about a whole group of people coming together to make a difference."
Law officers said during a Wednesday press conference that they did not know whether any member of the public carrying a concealed weapon had counterattacked Roberts. But they said they are certain that Roberts died by his own hand after fleeing down a stairwell from the mall's upper level.
---