Judge dismisses case involving targeted killing of Americans overseas
The ACLU and New York Times had sought access to government documents explaining the legal justification for a US drone strike that killed Anwar al-Awlaki, an American citizen and suspected Al Qaeda operative in Yemen.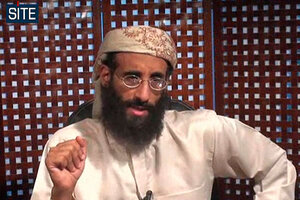 SITE Intelligence Group/AP/File
A federal judge on Wednesday dismissed most of two lawsuits seeking disclosure of US government documents related to the Obama administration's claim of legal authority to order the killing of American citizens overseas.
US District Judge Colleen McMahon expressed frustration with the state of the law, complaining in a 75-page opinion that she faced a "veritable Catch-22" in deciding whether the government could block public disclosure of legal memos justifying the president's overseas kill operations.
"I can find no way around the thicket of laws and precedents that effectively allow the Executive Branch of our Government to proclaim as perfectly lawful certain actions that seem on their face incompatible with our Constitution and laws, while keeping the reasons for their conclusions secret," Judge McMahon wrote.
At issue was whether the administration would be ordered under the Freedom of Information Act (FOIA) to disclose to the public legal memos written by government lawyers defending the targeted killing of US citizens overseas who were suspected of involvement in terror operations.
"This Court is constrained by law, and under the law, I can only conclude that the Government has not violated FOIA by refusing to turn over the documents sought in the FOIA requests," McMahon said.
She added that the government thus could not be "compelled by this court of law to explain in detail the reasons why its actions do not violate the Constitution and laws of the United States."
The judge continued: "The Alice-in-Wonderland nature of this pronouncement is not lost on me; but after careful and extensive consideration, I find myself stuck in a paradoxical situation in which I cannot solve a problem because of contradictory constraints and rules."
---