Christopher Dorner manifesto: a guide to ex-cop's alleged rampage
Christopher Jordan Dorner's 11-page Facebook manifesto warns of more killing unless his charge of corruption in the Los Angeles Police Department is acknowledged to have been correct.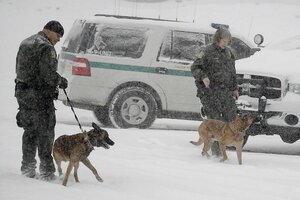 Gene Blevins/Reuters
Not since "Unabomber" Ted Kaczynski's 35,000-word manifesto in 1995 has a document generated as much fearful fascination as alleged Los Angeles cop-killer Christopher Jordan Dorner's written ramblings.
Alternately horrific and pathetic, they reveal a man consumed by vengeful bitterness over perceived slights and injustices ranging from racial slurs in grade school to his firing as a Los Angeles police officer in 2008 for – in his telling – blowing the whistle on corruption and abuse in the police department.
By Friday morning, police officials in southern California had yet to find the man they say has killed three people, including one police officer and the daughter of a former police captain.
Mr. Dorner promises to bring "unconventional and asymmetrical warfare" to police officers and their families, stalking them "where you work, live, eat, and sleep" and vowing to "utilize every bit of small arms training, demolition, ordinance and survival training I've been given," the manifesto reads. In addition to his police training, Dorner had been a Naval Reserve officer who trained in military weaponry and who had been cited as a rifle marksmen and pistol expert.
The most recent physical evidence of Dorner's whereabouts were the tracks leading away from his burned-out Nissan Titan pickup truck near the mountain community of Big Bear Lake, Calif., about 90 miles east of Los Angeles.
---