In Boston Marathon bombings, spectators' pictures could hold crucial clues
Investigators into the Boston Marathon bombings note that hundreds of spectators were taking pictures and videos at the time, and surveillance and network cameras were rolling, too. They hope one of those images could help crack the case.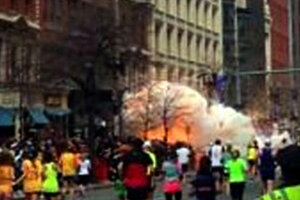 WBZTV/AP
Law enforcement officials said the investigation of the Boston Marathon bombings will seek to take full advantage of the fact that hundreds of spectators were shooting photos and videos around the time of the twin blasts.
The crime scene – right near the finish line – was one of the world's busiest photography scenes. Not only were marathon fans snapping photos and videos, but surveillance cameras in nearby stores and cameras filming the race for TV networks were positioned near the finish line.
"We would like to review any kind of media that you have out there," said Richard DesLauriers, the FBI special agent leading a multiagency investigation into Monday's attack.
The quest for digital media is just one piece of an investigation that also includes interviewing witnesses and analyzing the explosives. But it could be an important piece, given the sheer quantity of images from the scene.
Several speakers at a Tuesday morning briefing by officials in Boston emphasized the call for spectators to come forward with images, even if those images may seem insignificant or were taken well before the explosions that occurred at 2:50 p.m. along Boylston Street in Boston's Back Bay neighborhood.
"Tell us what time those photos were taken," added Boston Police Commissioner Edward Davis, seeking to simplify the work of investigators sifting through the images. He said images taken close to the explosions, in time and space, would probably have greater value than those further removed from it.
---