New Orleans parade shooting: Arrests show city's reworked approach to policing
The arrests of two brothers after a Mother's Day parade shooting appear to be an example of the dramatic shift in gang-war policing that New Orleans has made under Mayor Mitch Landrieu.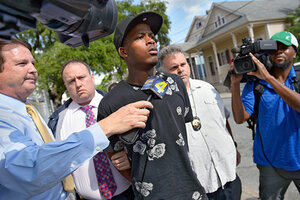 Matthew Hinton/AP
With the capture of two suspects following a Mother's Day parade shooting, New Orleans has become the second major US city this year – Boston being the first – to endure episodes of large-scale street violence allegedly initiated by brothers, a massive law-enforcement manhunt in response, and the eventual capture of the wanted individuals.
Last Sunday, Mother's Day, at least two shooters, identified by police as Akein and Shawn Scott, attempted what even hardened criminologists called the unspeakable: a gang hit on a street full of paradegoers, just a few blocks from the French Quarter. Of the 20 people hurt, seven were women and two were children.
The scene shocked even a city long known for a stubbornly high murder rate, with crimes often conducted in brazen fashion – including drive-bys, executions, and daytime killings.
But if residents were stunned by an attack that criminal-justice experts say teetered on domestic terrorism, the long-suffering New Orleans Police Department helped turn the emotional response around by tracking the alleged shooters down and capturing them by the end of the week.
For a city often at odds with its police department over complaints about harassment and excessive force, the manhunt and arrests of the Scott brothers became, for some, a unique moment of unity. It also appears to be an example of the dramatic shift in gang-war policing that the city has made under Mayor Mitch Landrieu, as well as under the supervision of federal marshals dispatched to end corruption in the department.
"In this case, Police Department intelligence is way better than what it used to be with regards to this kind of thing, and part of it is working with the Feds," says Dee Wood Harper, a criminologist at Loyola University New Orleans.
---