Free speech outside Supreme Court: Ban on protests in plaza struck down
A 60-year-old statute barring all protest on the marble plaza outside the US Supreme Court is 'irreconcilable with the First Amendment,' a federal judge in Washington ruled.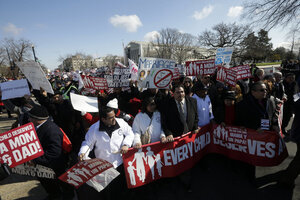 Pablo Martinez Monsivais/AP/File
In a case that brings free speech protections literally to the very steps of the US Supreme Court, a federal judge in Washington has struck down as unconstitutional a statute that allowed police to arrest anyone attempting to deliver a message of protest on the wide marble plaza outside the high court's elegant front entrance.
US District Judge Beryl Howell declared the 60-year-old law in violation of free speech protections and thus void as applied to the court's plaza.
"The absolute prohibition on expressive activity in the statute is unreasonable, substantially overbroad, and irreconcilable with the First Amendment," Judge Howell wrote in a 68-page opinion released Tuesday.
The decision puts in doubt a long tradition at the high court of police forcing demonstrators to confine their picketing, chanting, and sign waving to the relatively narrow public sidewalk in front of the court.
The police have consistently enforced the ban against protests on the plaza. During all of the court's highest profile and most controversial cases – involving abortion, civil rights, affirmative action, the Affordable Care Act, and others – throngs of supporters and opponents routinely jammed the sidewalk on First Street NE in front of the court.
As the crowd swelled, the sea of earnest humanity would spill onto Maryland Avenue to the north and down the sidewalk toward the Library of Congress. But through it all, the protests have never surged forward past the line of police officers to occupy the white-marble plaza with its fountains, benches, and flag pole.
Now, that may change.
The decision comes in the case of a Maryland man, Harold Hodge, who was arrested in January 2011 for standing silently on the marble plaza while wearing a 3-by-2-foot sign around his neck.
---