Prospective Juror E-81: George Zimmerman is innocent
As lawyers questioned prospective jurors in the George Zimmerman murder trial, Juror E-81's responses highlighted why jury selection in the Trayvon Martin shooting is proving difficult, and exhausting.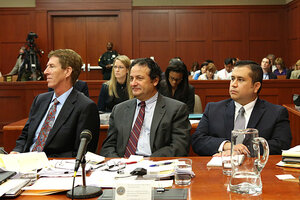 Jacob Langston/Orlando Sentinel/AP
Under questioning from attorneys in the George Zimmerman murder trial, dozens of anonymous potential jurors have explained how they formed their opinions regarding the death of Trayvon Martin, an unarmed black teenager, on Feb. 26, 2012, in Sanford, Fla.
Among them on Thursday was arguably the most opinionated potential juror yet, Juror E-81, who, like the hundreds of others, is being kept anonymous under an order from Seminole County Circuit Court Judge Debra Nelson. E-81, a woman, had not only absorbed detailed information about the high-profile murder and the pretrial legal maneuvers, but had shaped distinct and strongly-held beliefs about it.
Under questioning, Juror E-81 told the court she believed Mr. Zimmerman, an aspiring cop and volunteer neighborhood watchman, was innocent of murdering Mr. Martin, as the state has charged.
"I think he was just defending himself," the juror said.
She cited photos and excerpts from Martin's social media communications about pot smoking and fighting, saying the 17-year-old was training "to be a street fighter" and was "looking for a reason to fight" when Zimmerman confronted him on the rainy February night in Sanford.
Much of the information about Martin's personal activities she cited won't be allowed as admissible evidence in the trial, unless the prosecution opens the door for the defense to cross-examine witnesses about Martin's character, Judge Nelson has ruled. The trial started on Monday.
Juror E-81 was the most pointed example so far of the challenges to the careful lawyerly dance around seating an open-minded panel on a case that has riveted the US for sixteen months. The process raises thorny questions about the extent to which Americans stereotype young black men and their feelings on self-defense, and defense of neighborhoods, against crime.
---