Edward Snowden: Whistle-blowing protections most likely won't help
While Edward Snowden, the former NSA contractor, and others portray him as a heroic whistle-blower, his decision to make top secret documents public severely limits his legal protections, analysts say.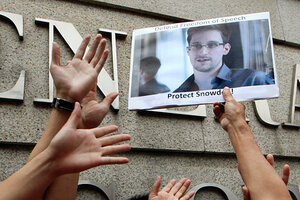 Kin Cheung/AP
Whether Edward Snowden is a "traitor," as House Speaker John Boehner called him, or a whistle-blower trying to prevent his country's descent into "turnkey tyranny," as he claimed in an interview, is simultaneously a legal and a moral question – and the answers may not overlap in this case, legal experts say.
The bottom line: The former NSA contractor, who disclosed details of top-secret US surveillance operations, could achieve the moral status of a whistle-blower and still serve many years in prison, the experts say, primarily because there are no whistle-blower protections for publicly divulging classified information.
Over the years, federal employees turned whistle-blowers have at times won recognition and even a financial bonus for revealing misdeeds ranging from defense-cost overruns, questionable drug approvals, and nuclear plant problems to illegal contracts and corrupt regulators.
Yet they emerge into a mixed-message and often-hostile legal environment. On the one hand, a half-century-old congressional code of ethics requires those working for the government to "expose corruption wherever discovered." On the other, doing so can result in being demoted, fired, or harassed.
Federal whistle-blower protection statutes offer few solid protections and quite often lead to the loss of a cherished career and huge legal costs, studies show. At the end of a torturous pathway, vindication may follow. Or not.
Set against this backdrop, Mr. Snowden's self-stated motives might seem to place him among the angels, whistle-blower advocates say. He has come out publicly, rather than merely leak documents anonymously. He has claimed in a video interview no venal motives either to harm US security or enrich himself by selling documents to America's enemies. Instead, he says, he seeks to help the public by exposing US surveillance programs that, in his and some others' views, may vastly overreach the laws that set them in motion.
---