Fight expert: George Zimmerman more like Pee-wee Herman than Chuck Norris
George Zimmerman, on trial for the fatal shooting of Trayvon Martin, trained at a boxing gym but was not deemed competent enough to face someone in the ring, a fight expert testified Wednesday.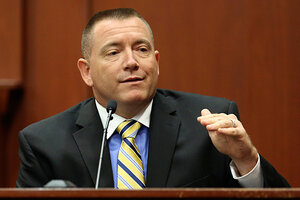 Gary W. Green/Orlando Sentinel/AP
An expert in the mechanics of hand-to-hand combat who took the stand in the George Zimmerman trial on Wednesday testified that Mr. Zimmerman is a hapless fighter who could well have felt justified in shooting Trayvon Martin in self-defense.
Dennis Root, a private eye and a former cop with a background in fight dynamics, said that in a "dynamic combat event" there's a "golden rule": If you haven't won the fight in 30 seconds, you need to change tactics.
The altercation between 17-year-old Trayvon and then-28-year-old Zimmerman had been under way for at least 40 seconds when Zimmerman grabbed his 9mm Kel-Tec and fired a straight shot into Trayvon's chest. Forty seconds in a fight is "like a lifetime," Mr. Root, a paid defense witness, told the six female jurors.
According to testimony, Trayvon was straddling Zimmerman, beating down on him, potentially causing the dislocated nose and small cuts on the back of Zimmerman's head shown in police forensic photos.
The question for the jury is whether Zimmerman was warranted in using deadly force, or whether he bears responsibility for engaging an innocent, unarmed teenager out of "ill will" and then fatally shooting him after he lost control of the situation.
Root acknowledged to the prosecution that Zimmerman had "other options" than to use his weapon, but doubted whether the defendant had the expertise to do much else to avoid further injury.
"We can sit here and come up with a thousand things that he may have been able to do," he said. "But reality is what a person is perceiving to be their reality, and what his responses are for that given reality. There are always options in every force event, it's just a matter of what you as an individual see as your options."
Root acknowledged that Zimmerman had trained at a boxing gym, although he had never been deemed competent enough to face anybody in the ring. Zimmerman spent most of his time shadowboxing and grappling a sandbag. He "didn't have the physical prowess to go into boxing another person. He didn't have the skill level to physically interact with another boxer," Root said.
That haplessness may have factored into Zimmerman's response, he added. "If I was dealing with Chuck Norris, I would expect a completely different response to any kind of physical altercation than I would if I was dealing with Pee-wee Herman," he said.
---