Gay marriage: Pennsylvania attorney general pulls an Obama on DOMA
Pennsylvania Attorney General Kathleen Kane says she will not defend her state's ban on gay marriage in court. Obama took a similar tack with the federal Defense of Marriage Act.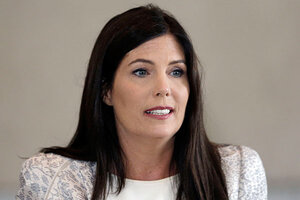 Matt Rourke/AP
Pennsylvania's attorney general, Kathleen Kane, announced Thursday that she will not defend her state's ban on same-sex marriage in court.
In taking that step, Attorney General Kane (D) joins a select group: President Obama, US Attorney General Eric Holder, former California Gov. Arnold Schwarzenegger (R), and current California Gov. Jerry Brown (D) – all of whom declined to defend measures blocking recognition of same-sex marriage.
But in Pennsylvania, there's a big difference: The state will still defend its own law. Gov. Tom Corbett (R) opposes gay marriage, and he can have his general counsel defend Pennsylvania's anti-gay-marriage law in court.
Kane's announcement came in response to a lawsuit filed on Tuesday by the American Civil Liberties Union, challenging Pennsylvania's version of the Defense of Marriage Act (DOMA). The state law, passed in 1996, prohibits same-sex marriage and the recognition of same-sex marriages performed in other states.
"I cannot ethically defend the constitutionality of Pennsylvania's version of DOMA, where I believe it to be wholly unconstitutional," Kane told reporters at the National Constitution Center in Philadelphia on Thursday.
The ACLU lawsuit, known as Whitewood v. Corbett, was filed Tuesday on behalf of 10 same-sex couples, two children, and a lesbian widow, on the grounds that the Pennsylvania law denies them the "fundamental right" to marry regardless of gender or sexual orientation.
---