Body cams for N.Y.C. police as a check on 'stop and frisk': a good idea?
The judge who found the NYPD's stop and frisk policy to be unconstitutional wants the city to test body cameras on officers, as a possible remedy. Experts see pros and cons. Early data from other police departments are encouraging.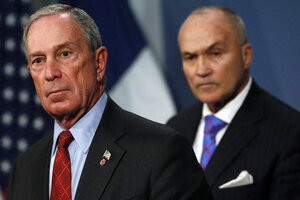 Brendan McDermid/Reuters
If a federal judge's ruling holds, hundreds of New York City police officers may soon have to clip on body cams and record their stop-and-frisks on city streets.
After ruling Monday that the city's policing practices violate the US Constitution, US District Judge Shira Scheindlin also ordered the NYPD to begin a one-year pilot program to evaluate the benefits of body-worn cameras. In at least one precinct in each of New York's five boroughs, cops will be required to carry cameras on their patrols – they are "uniquely suited to addressing the constitutional harms at issue in this case," the judge said.
If officers are stopping people illegally, or targeting minorities unfairly, such cameras could provide a real-time, objective record of what took place – a better accounting than the current police forms allow for – as well as be a deterrent to such practices.
They might even encourage more respect between both cops and civilians during encounters, Judge Scheindlin reasoned, perhaps building greater trust because people won't have to worry that it's their word against the police if they feel they've been unjustly stopped and frisked.
"I think it was a great idea," says Tod Burke, professor of criminal justice at Radford University in Radford, Va., and a former Maryland police officer. "It protects the police officer particularly in cases of abuse, when someone's claiming that the police officer did something to them, that they did an improper stop. It can show clearly that the officer was correct in his or her actions, and it can also protect the public from police misconduct."
---