New York biker attack's 'Mad Max' antics spook public, bring harsh charges
The New York biker attack – 'an ominous broad-daylight instance of lawlessness,' said one commentator – contributed to a public sense of vulnerability and put pressure on prosecutors.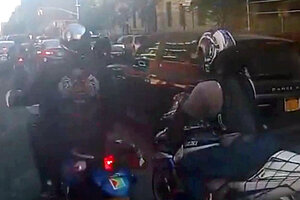 New York Police Department/AP
The gripping helmet-cam video depicting bikers chasing down a suburban family in an SUV is like a "Mad Max" flashback: ruthlessness mixed with glee, and an apparent embrace of lawlessness by even an undercover police officer who, according to prosecutors, joined in to "terrorize" a motorist and his family, including a two-year-old child.
Some commentators have linked the daring group attack on the family in the SUV – it took place Sept. 29th on the Upper West Side – to a broader "mood of civic abandonment" in the country, "an ominous broad-daylight instance of lawlessness, of the kind that can become symbolic of an era," as Nick Paumgarten writes this week in the New Yorker.
Manhattan prosecutors, meanwhile, surprised some observers by leveling more-serious-than-expected felony charges against at least six of the bikers, including an undercover NYPD police detective, Wojciech Braszczok, who turned himself in late Tuesday after a video showed him pounding on the rear of the SUV.
Mr. Braszczok was stripped of his badge before being charged Wednesday with first-degree gang assault, first-degree assault, and third-degree criminal mischief for "terrorizing" the family, even though the video of the attack does not show him laying hands on anyone.
As many as 1,000 bikers were taking part in a raucous ride in the city that day. The confrontation began when the SUV driver, Alexian Lien, bumped a motorcycle that had moved in front of him. Motorcyclists then swarmed Mr. Lien's car angrily, and Lien hit several of them as he tried to flee, running over and badly injuring one of them. Dozens of motorists looked on in horror as the bikers chased, cornered, and finally stopped the SUV, pulling Lien out and beating him before his terrified wife and daughter.
The charges against Braszczok, especially, suggested that prosecutors have a lot at stake and are under heavy public pressure to make sure the bikers are punished.
"The reason we focus so much attention on this case is it makes everybody feel vulnerable, and that's why there's so much pressure on the prosecutors," says Jack Levin, a criminologist at Northeastern University, in Boston. "You've got a sense that anybody could be next, surrounded by a large number of bikers in broad daylight – it inflames public perception because it seems like a major threat to public safety."
---