Bill Murray wins at Pebble Beach with D.A. Points
Bill Murray and D.A. Points win at Pebble Beach: Bill Murray may be a jokester but he wasn't kidding when he and D.A. Points accepted the winning trophy at the Pebble Beach National Pro-Am.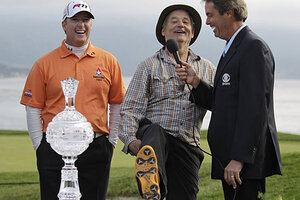 Eric Risberg/AP
Having to contend with a wise-cracking comedian throughout an event is not a winning recipe for everyone but it proved to be a perfect tonic for D.A. Points at the Pebble Beach National Pro-Am.
The 34-year-old American clinched his first PGA Tour win on Sunday in his 128th career start on the U.S. circuit, and he also triumphed in the separate pro-am competition with his playing partner Bill Murray.
Points grew up idolizing the U.S. actor and comedian, a fellow Illinois native who has been a regular participant in the Pebble Beach National Pro-Am since 1992.
"It will take me a really long time to truly grasp what I was able to accomplish with Bill this week," Points told reporters after securing victory by two shots with a closing five-under-par 67 on the Pebble Beach Golf Links.
"I grew up on the 17th hole of the local country club in Illinois and both my parents played and taught me the game. To win on the PGA Tour, especially at Pebble Beach and especially with Bill Murray ... I don't think I could even dream it up."
Murray, a tournament fixture at Pebble Beach in recent years, is probably the slowest moving celebrity in the pro-am field with his unique approach to the week, and therefore a big distraction for some players.
The 60-year-old from Wilmette in Illinois, the most notable amateur to compete in the event since fellow actor Jack Lemmon, is renowned for his high-octane and unpredictable entertainment out on the course.
---