Maya Angelou, George H. W. Bush among those who received Medal of Freedom
Maya Angelou and George H. W. Bush were among those to receive the highest civilian honor in the US. President Obama awarded George H. W. Bush, athletes, civil rights activists, humanitarians, and artists such as Maya Angelou the Medal of Freedom.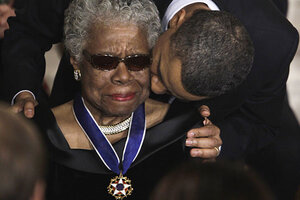 Charles Dharapak/AP
President Barack Obama recognized one former president and 14 artists, athletes, civil rights activists, humanitarians and others Tuesday with the Presidential Medal of Freedom for contributions to society that he said speak to "who we are as a people."
This year's recipients, who include German Chancellor Angela Merkel, "reveal the best of who we are and who we aspire to be," Obama said at a White House ceremony.
The Presidential Medal of Freedom is the nation's highest civilian honor. It is given in recognition of contributions to U.S. national security, world peace, culture or other significant public or private endeavors.
He said Merkel, who was not present, dreamed of freedom as she grew up in what was then East Germany.
"And when the wall finally crumbled and Germany was reunited, she broke barriers of her own, becoming the first East German and the first woman to become chancellor of Germany," Obama said.
He said Merkel's story is an inspiration to people around the world.
Obama said Merkel will be making an official visit to the United States soon and he looked forward to presenting the award to a "trusted global partner and a friend."
---