Geoffrey Mutai wins Boston Marathon with fastest time in history
Geoffrey Mutai, of Kenya, won the Boston Marathon on Monday with the fastest time in history, but an IAAF rule will keep it out of the record books.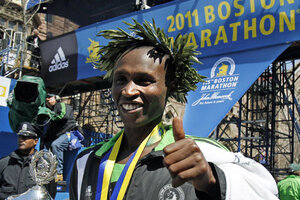 Elise Amendola/AP
Kenya's Geoffrey Mutai ran the fastest 26.2 miles (42.2 kilometers) in history to win the Boston Marathon on Monday. Then his claim to a world record was swallowed up by the hills.
Not the inclines of Heartbreak Hill that have doomed so many runners before him.
It was the downhill part of the race that makes his time of 2 hours, 3 minutes, 2 seconds ineligible for an official world record. In short: IAAF rules have deemed the oldest and most prestigious marathon in the world — long considered the one of the most difficult, too — to be too easy.
"You don't look at world records. You just go," Mutai said. "If you are strong, you push it. But if you put it in your head, you can't make it."
Mutai outsprinted Moses Mosop down Boylston Street to win by four seconds as the two Kenyans both beat Haile Gebrselassie's sanctioned world record of 2:03:59. Four men, including third-place finisher Gebregziabher Gebremariam of Ethiopia and American Ryan Hall, broke the course record of 2:05:52 set just last year by Robert Kiprono Cheruiyot.
"These guys obviously showed us what's possible for the marathon," said Hall, whose 2:04:58 is the fastest ever run by an American. "I was out there running, and I was thinking to myself, 'I can't believe this is happening right now. I'm running a 2:04 pace, and I can't even see the leaders.' It was unreal."
---