Crews work to reopen St. Louis airport after storm
The main airport remains closed a day after being hit by a tornado that blew out windows and smashed nearby houses.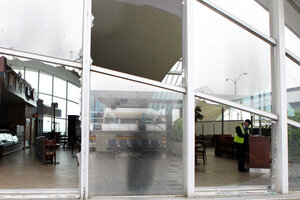 Johnny Andrews/AP
A severe storm that struck the St. Louis area left homes flattened in suburbs around the main airport, which remained closed Saturday a day after being hit by a tornado.
Crews had worked through the night in trying to clean up Lambert Airport, boarding up windows and sweeping up shattered glass. That effort pressed on Saturday, with police standing guard at spots where windows had been blown out. No passengers were evident.
In nearby suburbs, people wandered through neighborhoods where roofs had been torn off homes and multiple houses were flattened. An Associated Press photographer who flew over Bridgeton and Maryland Heights saw vehicles turned over in yards and in driveways and trees that had been toppled.
"I would say it looked like a bomb went off," photographer Jeff Roberson said.
In one case, a roof had been lifted off a house, and Roberson said he could see all the household items inside, including the dining room table.
Vivi Magana, 17, and her parents were trying to clean up the mess left at their Bridgeton home on Saturday. A huge tree in the front yard had been pulled out by the roots. An even larger tree in the back was split down the middle. A sliding glass door was shattered, and holes were in the roof.
Magana said the family was in the living room Friday night when her mother heard a roar of wind. As they rushed to the basement, Magana saw a lawn chair smash through the glass door. When the wind stopped, they emerged from the basement.
---