Robert Gates: Defense Secretary's exit interview
Robert Gates will retire this month as the US Defense Secretary. In his 45-year career, he's served under eight presidents. In a Newsweek interview, Gates discusses Hilary Clinton, Osama bin Laden's death, and emerging US isolationism.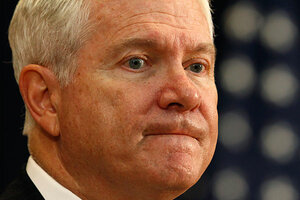 Kevin Lamarque/Reuters
By John Barry
Robert Gates retires as defense secretary at the end of this month, ending a career in government that began 45 years ago. Gates has served eight presidents in both parties, including as CIA director and Pentagon boss. On his farewell foreign trip, Gates talked at length with Newsweek's John Barry about his fears for the future of American supremacy, his relationship with Hillary Clinton, and his concerns about the more polarized, less experienced Washington that he leaves behind.
Here are some of the Gates extended comments from the interview.
On American supremacy:
"I've spent my entire adult life with the United States as a superpower and one that had no compunction about spending what it took to sustain that position. And it didn't have to look over its shoulder because our economy was so strong. This is a different time. And the country—and the leadership of the country, both Republicans and Democrats—face, I think, very tough choices."
---
Follow Stories Like This
Get the Monitor stories you care about delivered to your inbox.