Michael Phelps ready for individual events at world championships
Michael Phelps is in China this week, competing at the world swimming championships. The first individual event for Michael Phelps will be the 200-meter freestyle race Tuesday night.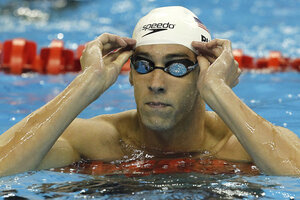 Wong Maye-E/AP
Michael Phelps is going after Paul Biedermann, and this time he's got help.
Having been handed "a pretty good beatdown" by the German in the 200-meter freestyle two years ago in Rome, Phelps gets a long-awaited chance at revenge in the world championships.
Biedermann trounced Phelps and took away his world record in Rome, where everyone was wearing the high-tech bodysuits that are now banned.
This time, it should be a fair fight.
Phelps and Biedermann won't be going one-on-one, though. They'll be joined by what Phelps described as "a studly field" in Tuesday night's final at the Oriental Sports Center.
Yannick Agnel of France was the fastest qualifier in the semifinals, with Biedermann second, American Ryan Lochte third, Park Tae-hwan of South Korea fourth and Phelps fifth.
"It's going to be down to the last 50 (meters)," Phelps said. "There are some guys that have front-half speed and some guys that close extremely well. You can probably guarantee that it's going to be a tight group."
Lochte didn't swim the 200 free in Rome, but he figures to be a major presence this time.
"It's going to be definitely a dogfight," he said, noting that he and Phelps will swim next to each other.
"I'm going to kind of move over to the lane line and draft off him. Hopefully we can put something together and pull out a 1-2 race."
Biedermann predicted the final will be "big pressure."
The Americans earned their first gold medal on Monday, with Dana Vollmer winning the 100 butterfly in 56.87 seconds.
---