Rick Perry polling numbers: Keep an eye on intensity score
The latest Gallop Poll shows the 'intensity score' for Rick Perry is better than any of the top GOP presidential contenders, observes DCDecoder.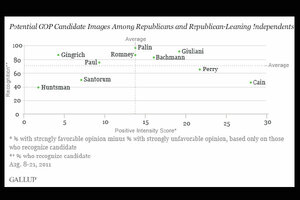 Gallup
Texas Gov. Rick Perry is racing upward in terms of national recognition, Gallup's most recent polling data shows.
But that chart only tells a small part of the story. What also matters is the intensity with which his supporters back him. Passionate supporters are more likely to donate, volunteer and, eventually, vote for the candidate.
While it's still extremely early in Perry's candidacy, his voter intensity has held rock solid even as Perry is introduced to people who didn't know him several weeks ago. His score in the chart below is 22, off only slightly from the previous reading of 23 taken two weeks prior.
Moreover, Perry has an intensity score that is much better than any of his major contenders. (Yes, Herman Cain's intensity rating is higher, but he isn't polling well in the key primary states, and he's near the bottom of the pack on name recognition.)
---