Flat tax to be proposed by Rick Perry. Does a flat tax make sense?
Flat tax: Texas governor and Republican presidential candidate Rick Perry announced Wednesday that he would propose a flat tax as part of an overhaul of the country's tax code.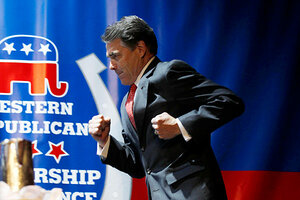 Isaac Brekken/AP
Republican presidential candidate Rick Perry said on Wednesday he will propose a flat tax as part of an overhaul of the U.S. tax code as he seeks to claw his way back to the top tier of the 2012 race.
A day after a bruising debate with his rivals for his party's presidential nomination, the Texas governor told participants at a conference of Western Republicans that he will outline his economic growth package next week.
He has a speech planned for October 25 in South Carolina, the state where he first announced his candidacy in August and which holds an important early contest in the road to the Republican nomination.
"I want to make the tax code so simple that even Timothy Geithner can file his taxes on time," Perry said, referring to President Barack Obama's treasury secretary, who was famously late in filing tax returns.
Perry jumped into the front-runner position when he announced his candidacy two months ago. But a series of shaky debates has left him trailing former Massachusetts Governor Mitt Romney and businessmanHerman Cain in the race to pick the Republican candidate who will challenge Democratic President Barack Obama in November 2012.
---