Statue of Liberty accessorized: Live web cams offer new harbor views
Statue of Liberty: A makeover of Lady Liberty will come with five webcams attached to the torch. The web cams go live Friday during ceremonies marking the Statue of Liberty's 125th anniversary.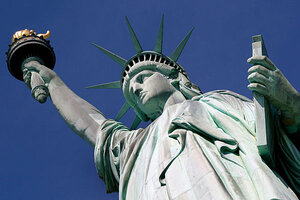 REUTERS/Mike Segar
The Statue of Liberty is getting accessories -- with five webcams attached to the torch held high in New York harbor offering views not seen by the public in nearly a century.
The webcams go live on Friday during a ceremony on Liberty Island marking the 125th anniversary of the dedication of the copper-clad monument, which was a gift from France to the people of America.
From computers afar, viewers will be able to watch live video streams of traffic, boats and airplanes in high-resolution panoramic images showing the Manhattan skyline, the city's borough of Brooklyn and neighboring New Jersey.
"For people who don't come to the Statue of Liberty, it will be a whole new opportunity for them to see the statue, what's around it and how it fits into the whole cityscape," Stephen Briganti, president of the Statue of Liberty-Ellis Island Foundation, said in an interview on Tuesday.
Officials closed the torch to the public in 1916 during World War One, following an explosion at a nearby munitions depot, blamed on German saboteurs, that damaged the statue.
---