Did Nancy Pelosi profit from Visa stock purchases?
Democrat Nancy Pelosi was put in the spotlight by a '60 Minutes' report on insider trading by Congress. What do Nancy Pelosi's purchases of Visa stock show?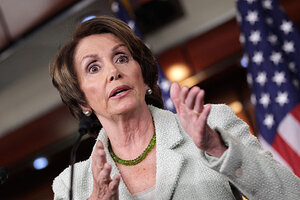 (AP Photo/J. Scott Applewhite)
Did Nancy Pelosi do something untoward when she bought shares of Visa's gangbusters initial public offering (IPO) in 2008?
After picking through her disclosure forms, it looks a lot less likely that Pelosi was looking for a quick payday. What's still unresolved, however, are ethical questions about buying and selling shares of companies that will be heavily impacted by legislation before Congress.
Pelosi is implicitly charged with getting improper treatment from Visa during their 2008 IPO, then the largest of all time. The following is Sunday's "60 Minutes' "lead in to the segment on Pelosi. The speaker is Peter Schweizer, whose investigation into stock trading on Capitol Hill is featured in the "60 Minutes" report:
"If you were a senator, Steve, and I gave you $10,000 cash, one or both of us is probably gonna go to jail. But if I'm a corporate executive and you're a senator, and I give you IPO shares in stock and over the course of one day that stock nets you $100,000, that's completely legal."
When you get into the facts of how these IPOs work and how Pelosi actually acted, however, that charge of impropriety looks less likely.
"60 Minutes" reports that Pelosi bought 5,000 shares of Visa at $44 each on March 18. (To put that into context, Pelosi's net worth in 2009 - she's married to real estate investor and venture capitalist Paul Pelosi - was $21.7 million.) Pelosi spent roughly $220,000 (excluding trading costs) on the Visa IPO. Considering the IPO was a then-record $17.9 billion, Pelosi's take was vanishingly small.
---