Syracuse coach Bernie Fine fired at third college with a child abuse scandal
Bernie Fine, assistant basketball coach at Syracuse University, was fired Sunday. Bernie Fine denied the allegations. Syracuse is the third US college facing a child abuse scandal.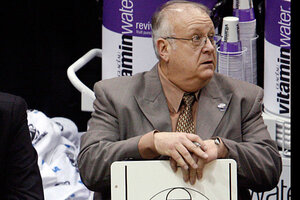 (AP Photo/Steve C. Wilson, File)
Syracuse University on Sunday fired assistant basketball coach Bernie Fine, the target of an investigation into allegations he molested a former ball boy and at least one other boy.
"At the direction of Chancellor (Nancy) Cantor, Bernie Fine's employment with Syracuse University has been terminated, effective immediately," the school said in a brief statement on its website, without elaborating on the reasons.
The firing was the latest jolt to major college athletics already reeling from the questions of oversight and possible cover-ups at Penn State, where a former assistant coach faces sexual abuse charges.
Fine was accused of inappropriate behavior with the former ball boy, identified as Bobby Davis, now 39, and his stepbrother Mike Lang, now 45, when they were juveniles.
Fine, who has called the accusations against him "patently false in every aspect", had been placed on administrative leave earlier this month after the allegations came to light.
His lawyer, speaking before his client was fired, said Fine would no longer speak publicly about the case.
"Mr. Fine will not comment on newspaper stories beyond his initial statement," attorney Karl Sleight said in a prepared statement in response to allegations by a third accuser, Zach Tomaselli, made on Facebook and carried in media reports.
"Any comment from him would only invite and perpetuate ancient and suspect claims. Mr. Fine remains hopeful of a credible and expeditious review of the relevant issues by law enforcement authorities," he added.
---