Barney Frank exit may signal the end of glory days for Mass. Democrats
Barney Frank will not seek re-election in 2012, but will there be enough Democratic fire power left in Massachusetts after he's gone?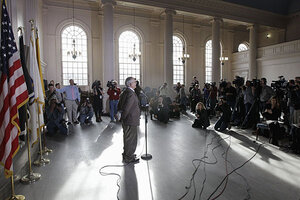 Stephan Savoia/AP
Rep. Barney Frank's decision to step down at the end of his term is the latest jolt to the bruised ego of the Massachusetts Democratic Party, which once counted Kennedys, House speakers and a president among its ranks.
Instead, some of the state's best-known political figures are now Republicans, among them Sen. Scott Brown and presidential candidate Mitt Romney.
"For a long time, Massachusetts Democrats have felt they played a special role in the national Democratic Party," said Tufts University political science professor Jeffrey Berry. "I think that has gone at this point. There is no one in Congress from Massachusetts who has that stature now."
Frank has long been a liberal lightning rod and is the highest-profile member of the state's all-Democratic House delegation. His announcement follows the decision of another Massachusetts representative, John Olver, a member of the House Appropriations panel, not to seek re-election.
---