German mother of L.A. arsons suspect asks if 'Nazis' took her son
L.A. arsons: Was Harry Burkhart setting fires in reaction to the arrest last week of his mother? German authorities want her for multiple counts of fraud.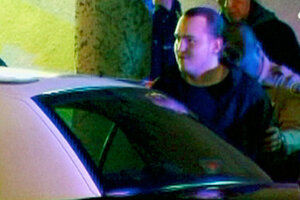 (AP Photo/OnScene.tv)
The mother of a man accused in a wave of arson fires across Los Angeles was facing possible extradition to Germany on fraud charges, a case federal prosecutors said on Tuesday appeared to have angered her son.
But police who arrested Harry Burkhart on suspicion of arson following a string of 53 fires over the New Year's holiday weekend have not offered a motive for the crimes, and Burkhart has yet to be formally charged.
His mother, Dorothee Burkhart, 53, was taken into custody last week on an arrest warrant issued by German authorities stemming in part from accusations that she failed to pay for a 2004 breast augmentation surgery, court documents show.
RECOMMENDED: Could you pass a US citizenship test? Take the quiz.
She appeared in U.S. District Court on Tuesday, apparently unaware that her son had been arrested in connection with the blazes that broke out over the weekend.
The arson fires, which were mostly started in parked cars and in some cases spread to carports and homes, left Los Angeles residents on edge and caused an estimated $3 million in damage.
There was no reference to Harry Burkhart's arrest during the Tuesday proceedings, and U.S. Attorney's spokesman Thom Mrozek said the elder Burkhart did not seem to know that her son was in custody.
---