Florida I-75 south of Gainesville reopened after massive pileup
Ten people died when a dozen cars and six trucks collided Sunday in a smoke-enshrouded section of Interstate 75 in Florida. Late Monday morning, Interstate 75 south of Gainesville was reopened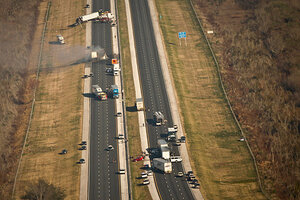 (AP Photo/The Gainesville Sun, Rob C. Witzel)
Updated: 1:30 pm Monday
Authorities are investigating the cause of a massive pileup early Sunday morning south of Gainesville, Florida, on Interstate 75 , where a long line of cars and trucks collided one after another on a dark highway so shrouded in haze and smoke that drivers were blinded.At least 10 people were killed and another 18 were taken to a nearby hospital, Shands at the University of Florida. As of Sunday night, six patients remained in the trauma center and three others admitted through the emergency room remained.
The interstate had been closed for a time before the accidents because of a mixture of fog and heavy smoke from a brush fire that may have been intentionally set. The decision to reopen it early Sunday will certainly be a focus of investigators, as will the question of how the fire may have started.
Authorities reopened the southbound lanes of I-75 around 11 a.m. Monday, the north-south highway that runs virtually the entire length of Florida. Complicating matters was that some of the road's asphalt melted. The northbound lanes were reopened late Sunday afternoon. (For information on Florida highway closures, click here.)
RELATED: Massive traffic jam in China
"Our standard operating procedure is to get the road open as quickly as possible but let's not forget we have 10 people who are not with us today," Lt. Patrick Riordan, a Florida Highway Patrol spokesman, said Sunday evening. "So we are going to take our time assessing the situation."
---