Occupy DC protesters reminded of no-camping ban by authorities
US Park Police have reminded Occupy DC protesters of a no-camping ban in two locations in the nation's capital. A judge is expected to hear arguments on the ban Tuesday.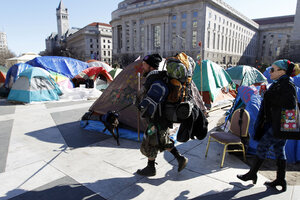 Jose Luis Magana/AP
U.S. Park Police on Monday began quietly enforcing a no-camping rule at two Washington sites where Occupy protesters have been demonstrating for months. But despite heightened tensions, there were no arrests reported by the afternoon and no forced evictions.
Some Occupy protesters had been bracing for a possible confrontation since Friday, when the National Park Service warned demonstrators that they must stop camping at the sites by noon Monday. Those who defy the order or violently resist could face arrest.
The demonstrators, some with faces obscured by masks and bandannas, seemed prepared for police to try to evict them. A large white sign visible Monday at one of the entrances to McPherson Square, one of the two Occupy sites, read: "High Noon U.S.A. Park Police Showdown." Yet noon came and went without any forced eviction, and Sgt. David Schlosser, a Park Police spokesman, said officers were trying to take an "incremental and measured" approach by reminding demonstrators of the deadline and urging them to respect the camping ban.
He said some of the few dozen remaining demonstrators had already followed the order, though he did not know how many. He declined to discuss a timeline for eviction, though he said the camping ban pertained not only to sleeping on the grounds but also to possessing bedding materials such as blanket and pillows.
---