Komen official behind Planned Parenthood funding flap leaves
The Susan G. Komen vice president, who pushed to stop funding Planned Parenthood, stepped down from the breast cancer charity Tuesday. Komen founder Nancy Brinker said "We have made mistakes."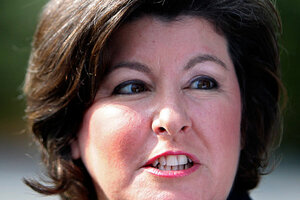 (AP Photo/John Bazemore, File)
A senior executive of the breast cancer charity Susan G. Komen for the Cure has resigned after a public outcry over the group's decision to cut funding to women's health organization Planned Parenthood.
Karen Handel, a Republican who once ran for governor of Georgia on a platform calling for defunding of Planned Parenthood, stepped down from her role as the top U.S. breast cancer charity's senior vice president for public policy and chief lobbyist, the organization said on Tuesday.
"I have known Karen for many years, and we both share a common commitment to our organization's lifelong mission, which must always remain our sole focus," Komen founder Nancy Brinker said in a statement. "I wish her the best in future endeavors."
RELATED: Where GOP candidates stand on abortion and other social issues
Komen's move last week caused an uproar among supporters who also back Planned Parenthood, a provider of birth control, abortion and other health services. Komen reversed the decision on Friday.
Many had accused Komen of bowing to political pressure from anti-abortion groups. The charity says its move was guided by a new policy to not fund organizations under investigation by U.S. authorities.
---