Daytona 500: Tony Stewart and Matt Kenseth win qualifying races
The Daytona 500 is underway and defending NASCAR champion Tony Stewart and Matt Kenseth won the first two races to be lined up together at the Daytona International Speedway.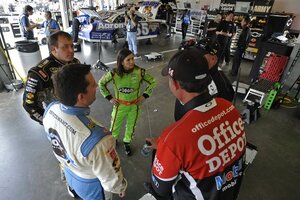 Rainier Ehrhardt/AP
Roush Fenway Racing will have three cars at the front of the season-opening Daytona 500.
Matt Kenseth won the second of the twin qualifying races Thursday with a bold pass of teammate Greg Biffle. The victory gave Kenseth a spot on the second row for Sunday's race — right behind teammates Carl Edwards and Biffle.
Tony Stewart, the defending NASCAR champion, won the first race and will line up next to Kenseth at DaytonaInternational Speedway.
Biffle was leading headed into the final lap, but he tried to block Kenseth, who dived to the inside and used a push from Jimmie Johnson to take the lead.
"Well, we were going so much faster that we were going to go by him regardless," Kenseth said. "That was his only hope, is to try to get up the track, try to line my front bumper up where I had to push him. The problem was, I was going too fast. Even if I wanted to slow down, which I didn't want to on the last lap, I couldn't have."
Robby Gordon and Michael McDowell earned the two spots up for grabs in the first race, while Joe Nemechek and Dave Blaney each raced their way into the 500 in the second qualifying race.
---