Jury finds Virginia Tech liable in campus shooting
The parents of two slain students had sued the university, alleging that officials acted unreasonably by failing to warn students sooner.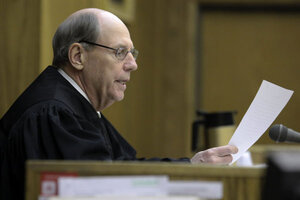 Matt Gentry/AP
The parents of two Virginia Tech students killed in a 2007 campus massacre worked for years to prove university officials were negligent for waiting to warn students of a gunman on campus, and a jury agreed with them on Wednesday.
It took jurors 3½ hours to find that university officials botched their response to the April 16, 2007, massacre that left 33 people — including the gunman — dead. The jury determined in the wrongful death lawsuit against the state that the parents of Julia Pryde and Erin Peterson each deserved $4 million. The award likely will be sharply reduced because Virginia law requires such awards to be capped at $100,000.
The lawsuit was the last pending litigation over the mass shootings and it's not clear if any additional lawsuits will be filed. The state is expected to appeal the verdict, as it did a separate fine handed down by federal education officials. No criminal charges were brought in the shootings.
"We were looking for truth for a long time," Harry Pryde said outside the courthouse that's less than 10 miles from Tech's Blacksburg campus. "We persevered and we got some truth today."
After the verdict, the parents said their persistence is what their daughters would have wanted. They were the only eligible families to reject their share of an $11 million dollar settlement in 2008, instead taking the state to court in a wrongful death lawsuit.
The $11 million settlement was split between 24 families, excluding other disbursements such as $1.9 million set aside in a hardship fund. The state could not immediately provide a per-family breakdown of the settlement.
---