Plastic restraints failed to hold pilot, JetBlue CEO vows review
JetBlue CEO says he knew the pilot who become erratic on flight 191 to Las Vegas personally. But JetBlue promises a review of safety procedures.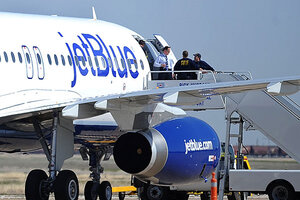 (AP Photo/The Amarillo Globe News, Roberto Rodriguez)
The CEO of JetBlue said on Wednesday he personally knows the pilot whose erratic behavior led to a diverted flight and that there were no earlier signs of problems, although the airline will review its procedures after the incident.
A JetBlue flight bound for Las Vegas from New York had to make an emergency landing in Amarillo, Texas on Tuesday after what passengers described as chaos mid-flight when Captain Clayton Osbon was locked out of the cockpit.
Aviation experts say that such incidents are rare. John Cox, an aviation safety consultant and former airline pilot, told the Associated Press that incidents in which pilots become mentally incapacitated during a flight are "pretty rare." He said he could only recall two or three other examples in the more than 40 years he has been following commercial aviation.
RELATED: Four things that bug flight attendants
Passenger video of the situation shows Osbon ranting about Israel and Iran, among other things.
---