Unresponsive Cessna: What caused the plane crash?
Unresponsive Cessna: Could the cause of the crash of the unresponsive Cessna 421 be the same as the Payne Stewart Learjet crash in 1999?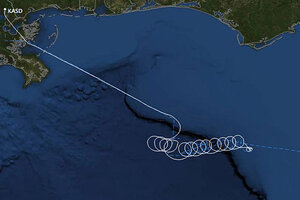 (AP Photo/FlightAware)
Coast Guard crews saw no signs Thursday that the pilot of a small plane survived when his Cessna went down in the Gulf of Mexico about three hours after two F-15 fighter jets tried to make contact with him.
Coast Guard Chief John Edwards said the plane landed right-side up on the ocean surface and had been floating right after the crash. Planes did not see a life raft deploy or anything to indicate the pilot — the lone person aboard — was alive, the Coast Guard said.
The twin-engine Cessna 421C later sank into the Gulf about 120 miles (200 kilometers) west of Tampa, Fla., in about 1,500 feet (460 meters) of water. A C130 and a helicopter were looking for debris from the submerged plane, said Petty Officer Elizabeth Borderland. A Coast Guard cutter would remain in the area all night, she said.
RELATED: Six stories from a veteran flight attendant
Federal Aviation Administration spokeswoman Kathleen Bergen said the plane was flying from Slidell, Louisiana, to Sarasota, Florida. She said controllers lost contact with the pilot at 9 a.m. (1400 GMT). The Coast Guard said it went down about 12:10 p.m. (1710 GMT).
---