Michelle Obama in Arizona: Could it swing to Democrats?
Michelle Obama campaigned for her husband in Arizona and Colorado Monday. Mrs. Obama will be in Nevada and New Mexico Tuesday.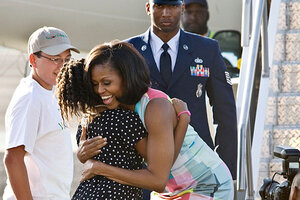 (AP Photo/Arizona Daily Star, Ron Medvescek)
First lady Michelle Obama was in Tucson on Monday as part of a four-state campaign push in the West — a visit that has political analysts saying that Arizona could very well be up for grabs in November's presidential election.
She also visited Colorado on Monday, and will be in Nevada and New Mexico Tuesday.
Speaking to about 450 people at a fundraiser for President Barack Obama's re-election campaign in Arizona, Mrs. Obama said the campaign will be a long, hard road with twists and turns, and she urged the crowd to roll up their sleeves and get to work.
"Are you in?" she said. "I know so well what the stakes are. ... We need you every step of the way."
IN PICTURES: Michelle Obama in Haiti and Mexico
Mrs. Obama landed in the southern Arizona city Monday evening after stopping in Colorado Springs, Colo., where she helped open the 2012 Warrior Games, a six-day sports competition for wounded soldiers and veterans. Mrs. Obama told the athletes that they are an inspiration for all Americans.
---