US Postal Service to close 140 mail processing centers
The US Postal Service will close 48 mail sorting facilities in August, and the rest will close next January and February, the Postmaster General announced Thursday.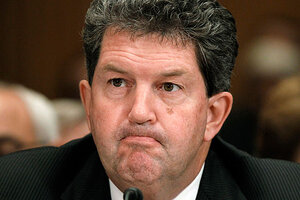 (AP Photo/J. Scott Applewhite, File)
The nearly bankrupt US Postal Service is moving ahead with plans to close dozens of mail processing centers, saying it can no longer wait for Congress to decide how to cut postal costs.
Postmaster General Patrick Donahoe says postal operations are simply too big given declining mail volume. The agency will consolidate 140 mail processing centers within the next year, including 48 this August. Most will occur next January and February, after the busy election and holiday mail season.
Another 89 closings would occur in 2014.
"We simply do not have the mail volumes to justify the size and capacity of our current mail processing network. To return to long-term profitability and financial stability while keeping mail affordable, we must match our network to the anticipated workload," said Mr. Donahoe in a statement. "Our current plan meets our cost reduction goals, ensures seamless and excellent service performance throughout the implementation period, and provides adequate time for our customers to adapt to our network changes."
IN PICTURES: US postal workers deliver in all climates
These consolidating activities will reduce the size of the Postal Service workforce by approximately 13,000 employees and, when fully implemented, will generate cost reductions of approximately $1.2 billion annually.
"The Postal Service will be communicating with our customers and employees about these changes in great detail," said Megan Brennan, chief operating officer of the Postal Service "We will work closely with our customers to ensure there are no surprises as we move forward."
---