Spelling Bee: The final 50 will compete for $30,000
The youngest competitor this year is 6-year old Lori Anne Madison. The winner of the 85th Scripps National Spelling Bee gets $30,000 in cash. Second place: $2,500.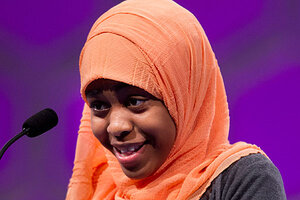 (AP Photo/Evan Vucci)
In his fifth and final National Spelling Bee, Nicholas Rushlow had little reason to be nervous.
The 14-year-old eighth grader from Pickerington, Ohio, strutted confidently to the microphone in a preliminary round on Wednesday morning, high-fiving a fellow competitor who'd just missed a word. After greeting pronouncer Jacques Bailly and asking for the definition of "Gabbai" — a minor synagogue official — he spelled it with ease and gave a smile and a nod.
Rushlow has made it to the Scripps National Spelling Bee every year since 2008, although he's never made the finals. His best showing was a 14th-place finish last year. This is his last chance. Next year, he'll be too old.
While Rushlow was clearly at ease, the speller before him, Veto Lopez, exemplified how agonizing the competition can be. He paused for several seconds before starting to spell "blase," then stopped even longer in the middle of the word, cracking his knuckles and glancing at the television lights above him, before misspelling it.
There are 278 spellers participating in the preliminary rounds, and each will spell two words onstage Wednesday. Their scores are combined with a 50-word computer test they took Tuesday, and no more than 50 will advance to Thursday's semifinals. The finals are Thursday night.
---