New York City at high financial risk for hurricane damage
A new report says the New York metropolitan area, including Long Island and northern New Jersey, could be hit with heavy financial losses in the event of a hurricane making landfall there.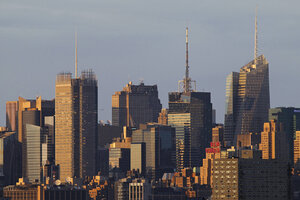 Gary Hershorn/REUTERS
When people think of hurricane damage they usually think of Miami or New Orleans, but a new report suggests the greatest financial risk of all may be much farther north: the greater New York City area.
Data analysis firm CoreLogic said in a new report released on Thursday that the U.S. metropolitan area at greatest risk, both in the number of properties affected and the potential value of damage, was New York City. For the firm's purposes, the area also includes Long Island and northern New Jersey.
"The summer of 2011 gave us some startling insight into the damage that even a weak storm can cause in the New York City metro area," CoreLogic vice president Howard Botts said.
"Hurricane Irene was downgraded to a tropical storm as it passed through New Jersey and New York City, but the impact of the storm was still estimated at as much as $6 billion."
It is much more likely that a hurricane will make landfall in Miami than New York. In 2012, according to landfall tables from Colorado State University, the odds are 5.3 percent for Miami and 0.2 percent for New York City. Over 50 years, the odds rise to 95.5 percent for Miami and 6.6 percent for New York.
---