LeBron leads Heat to NBA Finals with Game 7 win over Celtics
Saturday night, a LeBron James-led team finally overcame Boston's vaunted history of Game 7 success. Now, Miami takes on a young, rested Thunder squad in the NBA Finals that begin Tuesday night in Oklahoma City.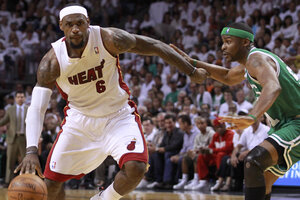 Andrew Innerarity/REUTERS
LeBron James finally got a Game 7 victory, on his third try.
Next up, the NBA finals — and his third try at that elusive first championship. A year after watching someone else celebrate on their home floor, the Miami Heat were the ones dancing at midcourt.
James had 31 points and 12 rebounds, Chris Bosh hit a career-best three 3-pointers — the last sparking the run that put it away — and the Heat won their second straight Eastern Conference title by beating the Boston Celtics 101-88 in Game 7 on Saturday night.
Miami opens the title series in Oklahoma City on Tuesday night. The Heat got there by outscoring Boston 28-15 in the fourth quarter, with the "Big Three" of Dwyane Wade, Bosh and James scoring every Miami point.
"We decided to come together and play together for a reason," Wade said.
Wade scored 23 points, Bosh finished with 19 and Shane Battier added 12 for the Heat, who won a Game 7 for the first time since 2004 — Wade's rookie season. Now it's back to the finals, where Miami fell in six games to Dallas a year ago.
---