Roman Catholic official guilty of child endangerment in sex abuse case
Monsignor William Lynn of Philadelphia helped the Catholic archdiocese keep sexual predators in ministry, and the public in the dark, said prosecutors. Lynn is the first US church official convicted for how he handled child sexual abuse claims.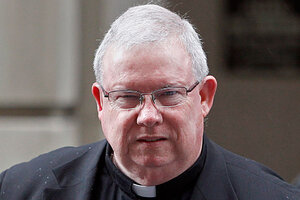 REUTERS/Tim Shaffer/Files
A Roman Catholic church official was convicted Friday of child endangerment but acquitted of conspiracy in a groundbreaking clergy-abuse trial, becoming the first US church official convicted of a crime for how he handled abuse claims.
Monsignor William Lynn helped the Philadelphia archdiocese keep predators in ministry, and the public in the dark, by telling parishes their priest was being removed for health reasons and then sending the men to unsuspecting churches, prosecutors said.
Lynn, 61, had faced about 10 to 20 years in prison if convicted of all three counts he faced — conspiracy and two counts of child endangerment. He was convicted only on one of the endangerment counts, leaving him with the possibility of 3 1/2 to seven years in prison.
RELATED: Catholic church abuse crisis
He has been on leave from the church since his arrest last year. He served as secretary for clergy from 1992 to 2004, mostly under Cardinal Anthony Bevilacqua.
The late cardinal was a prominent figure in the trial and rarely an hour of testimony went by without his name being invoked.
Bevilacqua had the final say on what to do with priests accused of abuse, sent many of them to new churches and dressed down anyone who complained, according to testimony. He also ordered the shredding of a 1994 list that warned him that the archdiocese had three diagnosed pedophiles, a dozen confirmed predators and at least 20 more possible abusers in its midst. Prosecutors learned this year that a copy had been stashed in a safe.
Defense lawyers say Lynn alone tried to document the complaints, get priests into treatment and alert the cardinal to the growing crisis. Church documents show therapists had called one accused priest a ticking "time bomb" and "powder keg."
---