Malia Obama: Old enough to be 2012 campaigner?
Malia Obama and Sasha Obama are turning up in 2012 campaign ads as Barack Obama raises their visibility. Malia Obama turns 14 on July 4.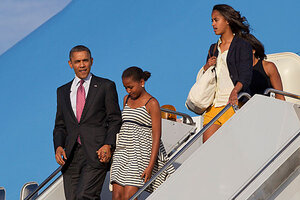 Carolyn Kaster/AP/File
President Barack Obama and first lady Michelle Obama fiercely protect the private lives of their daughters, Sasha and Malia, as they raise the girls in the fishbowl that is the modern White House. Yet, the Obama girls — ages 13 and 11 — increasingly are making public appearances: starring in remarks by their father, appearing in a campaign video celebrating Father's Day and now in a campaign ad that's airing in seven battleground states.
The bump in visibility comes as President Obama uses the girls to personalize his image and his thinking on a range of public policy issues, from explaining why he placed a phone call to a college student assailed by radio talker Rush Limbaugh to his decision to support gay marriage.
"It wouldn't dawn on them that somehow their friends' parents would be treated differently," Obama said of his daughters as he explained his switch to supporting same-sex marriage. "It doesn't make sense to them and, frankly, that's the kind of thing that prompts a change in perspective."
IN PICTURES: Michelle Obama travels with Malia and Sasha
Politicians often showcase handsome families, in part to humanize themselves. Mitt Romney's five good-looking sons recently jousted with late-night TV host Conan O'Brien in a bid to show their father as a fun-loving guy. Former Utah Gov. Jon Huntsman's telegenic three daughters got nearly as much attention for arch videos and a zingy Twitter account as did the onetime Republican presidential hopeful's campaign.
---