Navy exam-cheating may fall into 'grey area'
Investigators in the U.S. Navy have determined that exam cheating is not pervasive among those training to become part of the submarine force. The investigation began with the discovery of a cheating ring on the USS Memphis.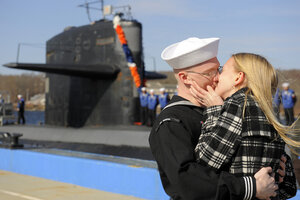 AP Photo/The Day, Sean D. Elliot
U.S. Navy investigators have dismissed allegations that pervasive cheating tainted training exams administered to enlisted sailors and officers in the submarine force, according to documents obtained Thursday by The Associated Press.
The inspector general for the Atlantic submarine force opened an investigation following a complaint that originated in Groton, Conn., the home port of an attack submarine that was hit by a cheating scandal in 2010.
In a letter sent to U.S. Fleet Forces Command in December, the commander for the Atlantic submarine force said the claims were unsubstantiated. It said previous episodes mentioned in the complaint were investigated and dealt with individually.
The letter, which the AP obtained through a Freedom of Information Act request, recommended the case be "closed as unsubstantiated with no further action."
The investigation began with a complaint from a crew member aboard the USS Memphis, a submarine that lost about 10 percent of its crew to disciplinary measures after a cheating ring was discovered in November 2010. The crew member also complained that the punishments were unduly harsh and influenced by abuse of authority, claims that were also investigated and dismissed by the Navy.
The Navy has insisted that the episode reflected a rare lapse in integrity. But some former officers told the AP that it was an extreme example of shortcuts that sailors on other submarines have taken to pass increasingly difficult nuclear training exams that have little bearing on skills sailors need.
The unidentified man who filed the complaint said the punishments were unfair because so many others got away with cheating.
"He equated it to 'doing 60 in a 55 and instead of a speeding ticket we lost our license for life,'" the Navyreport said.
---