Judge blocks law (again) that would close Mississippi's last abortion clinic
District Judge Daniel P. Jordan III extended his order blocking a Mississippi state law that would shut down Mississippi's only abortion clinic. No word yet on when a final ruling from the judge will come.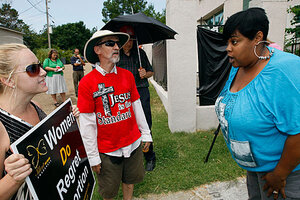 (AP Photo/Rogelio V. Solis, File)
A federal judge on Wednesday continued to block a law that threatened to shut down Mississippi's only abortion clinic and make it nearly impossible for a woman in one of the poorest states in the U.S. to get the procedure.
U.S. District Judge Daniel P. Jordan III temporarily blocked the state law July 1 and extended that order Wednesday. He did not say how long it would last.
The U.S. Supreme Court has ruled that states can't place undue burdens or substantial obstacles for women seeking abortion. The law would require anyone performing clinic abortions to be an OB-GYN with privileges to admit patients to a local hospital. The doctors at the clinic do not have those privileges, and the clinic says the privileges aren't medically necessary.
RECOMMENDED: Study says unsafe abortions on the rise
Supporters of the law say it's designed to protect patients. Republican Gov. Phil Bryant says he hopes it will help make Mississippi "abortion-free."
The clinic, Jackson Women's Health Organization, says it has been unable to obtain admitting privileges for its two out-of-state OB-GYNs because local hospitals have not responded to their requests. The privileges can be difficult to get because hospitals might not grant them to out-of-state physicians, or hospitals with religious affiliations might not give them to doctors who perform abortions.
---