Feds: California nuclear plant didn't mislead regulators
In their report, the Nuclear Regulatory Commission (NRC) found that Southern California Edison had not mislead regulators about issues at their troubled San Onofre power plant, located between San Diego and Los Angeles, California.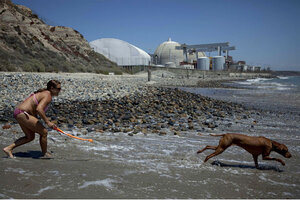 AP Photo/Grant Hindsley
Federal regulators Thursday concluded that the operator of the San Onofre nuclear power plant in California did not mislead the government about modifications to its troubled steam generators, where unusual damage has been found on scores of tubes that carry radioactive water.
Environmental activists had accused Southern California Edison of duping the Nuclear Regulatory Commission about a series of changes to the massive machines before they began operating in 2010 and 2011, including boosting the number of tubes and redesigning internal supports that hold them in place.
The seaside plant between San Diego and Los Angeles has been idle since January, after a tube break in one of the generators released traces of radiation and set in motion a series of events that led to a federal probe.
In a report, investigators concluded that Edison "provided the NRC with all the information required under existing regulations about proposed design changes to its steam generators," according to a statement. Essentially, the agency staff found Edison complied with federal rules for replacing the generators — yet ended up with machinery that operated so badly that tube damage at the twin-reactor plant has been called unprecedented.
A central question remains under study: Does the agency need to change the process that was used to approve the replacement generators? At issue is whether tubing problems that eventually sidelined the reactors might have been identified by changing rules under which utilities swap equipment at nuclear power plants.
For example, the report concluded that there were "major design changes" between the original and replacement generators at San Onofre, yet they qualified as essentially identical replacements that did not require an exhaustive review by the NRC.
---