At least six killed in shooting at Wisconsin Sikh temple
A gunman opened fire on a Sikh Temple in Wisconsin where several dozen people were worshiping, killing at least six. The suspected shooter died in an exchange with police.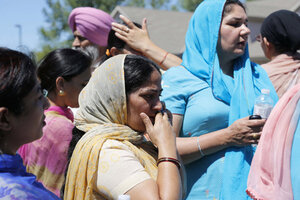 Jeffrey Phelps/AP
At least six people were killed Sunday when a gunman opened fire at a Sikh temple near Milwaukee, and the suspected shooter later died in an exchange of gunfire with police, authorities said.
Police were called to the Sikh Temple of Wisconsin in the suburb of Oak Creek, where witnesses said several dozen people were gathering for a service. Authorities found four people dead inside the temple and two outside, Greenfield Police Chief Bradley Wentlandt said.
Sunny Singh, 21, of Milwaukee, said a friend pulled into the temple's parking lot, heard shots and saw two people fall down. The friend then saw the shooter reload his weapons and head to the temple's entrance, Singh said.
The first police officer to arrive at the temple engaged in gunfire outside the building with a man police believe was the shooter, Wentlandt said. The suspect was killed, he said.
Tactical units went through the temple, and authorities do not believe a second shooter was involved, Wentlandt said.
It's unclear how many others were wounded. Wentlandt said he had been told the officer who exchanged gunfire with the suspect and another person had been taken to hospitals. He said the officer was shot multiple times and is in surgery and is expected to survive.
The spokeswoman for the area trauma center said three victims were being treated there, including one who was in surgery.
Jatin Der Mangat, 38, of Racine, the nephew of the temple's president, Satwant Singh Kaleka, said his uncle was one of those shot, but he didn't know how serious his injuries were. He was among those waiting for news when police announced the deaths.
"It was like the heart just sat down," he said. "This shouldn't happen anywhere."
---