Issac approaches, sending GOP scrambling
Despite tropical storm Issac, which could become a Category 2 hurricane, Republican delegates are still flocking to Tampa, Fla. The storm has forced the GOP to postpone convention events.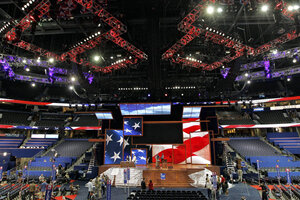 J. Scott Applewhite/AP
Undaunted by storm reports, Republicans descended on Florida as Mitt Romney's team worked Sunday to cram four days of events into three after the threat of tropical storm Isaac forced the soon-to-be nominee to scale back his national convention.
Blue skies with patches of clouds hung over Tampa early Sunday, though winds were picking up as the major storm approached.
As aides in Tampa scramble, Mr. Romney is taking a rare day off the campaign trail at his lakeside vacation home in New Hampshire, receiving updates on the storm and making final preparations for the Thursday speech with which he will accept the Republican Party's presidential nomination.
"The safety of those in Isaac's path is of the utmost importance," Romney tweeted after Republican officials announced they had called off Monday's convention proceedings.
Because of possible storm surges and flooding Isaac could bring, convention organizers said they were making contingency plans to move delegates who have been booked into beachfront hotels to other locations if necessary. They indicated the schedule shift also was meant to prevent overburdening emergency response personnel at the height of the storm.
The GOP made the announcement late Saturday, saying that while the convention would officially be gaveled into session on Monday as scheduled, events would be postponed until Tuesday.
---